Hôm nay, trong thời gian rảnh rỗi, tui đã lướt lại 1 vòng bộ sưu tập hình ảnh của tui. Có khá nhiều nơi ở Hàn Quốc tui đã đi qua với những nét đặc trưng riêng của nó và kỷ niệm của tui. Trong số đó, lần này tui muốn kể cho bạn nghe về Yeosu, nơi mà tụi tui (Tui & Thúy, Arvin & Tâm) có dịp đến thăm vào năm ngoái (20080504)… Thật là thú vị…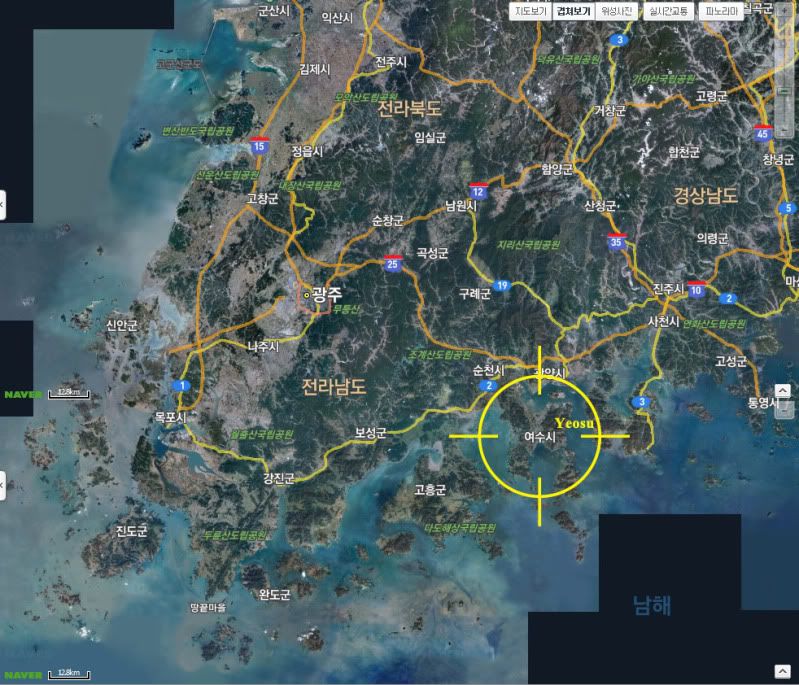 (Vị trí của Yeosu - Location of Yeosu)
Today, in spare time, I have a look on my picture collection. There are many places in Korea with their own characteristics as well as my memory. Among them, I would like to tell you in this time about Yeosu where we (I & Thuy, Arvin & Tam) have visited in last year (20080504)… That was nice…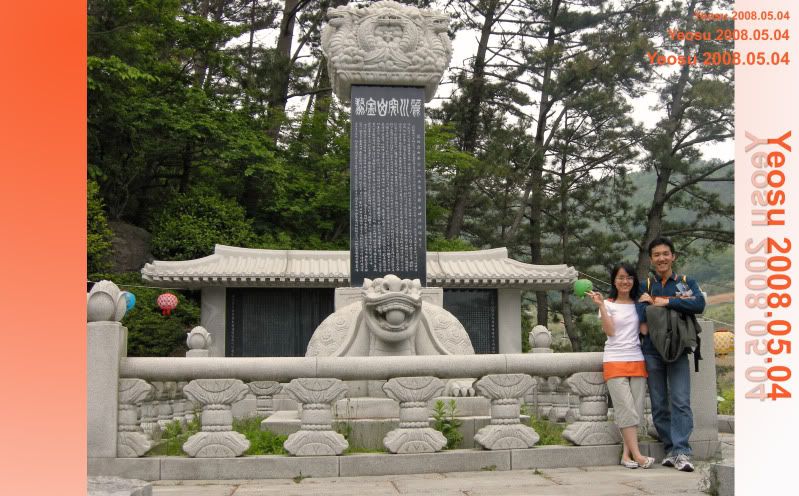 (Hình được làm bởi Thúy ^-^ Designed by Thúy)
Yeosu là một thành phố nằm ở vùng Jeolla, phí nam của Hàn Quốc. Thành phố này bao gồm bán đảo Yeosu và 317 hòn đảo (49 có người sinh sống và 268 thì không có người). Gió biển và dòng nước ấm chảy qua vùng này đã làm cho Yeosu có mùa hè mát mẻ hơn và mùa đông bớt lạnh hơn những vùng khác. Ngoài ra, Yeosu còn là một thành phố lịch sử nơi mà trung tâm căn cứ hải quân của miền vùng Nam Jeolla đóng giữ, đô đốc Yi Sun Shin đã từng sáng tạo ra chiến thuyền tên là Geobukseon hay còn gọi là thuyển "rùa" để bảo vệ sự xâm lấn của giặc.
Yeosu (Yeosu-si) is a city in South Jeolla Province, South Korea. The city of Yeosu consists of the Yeosu peninsula as well as 317 islands (49 inhabited, 268 uninhabited). Thanks to the sea wind and warm current, Yeosu has cool summers and mild winters. Yeosu is a city of history and loyalty where the headquarters of South Jeolla Province Navy Base was located, and the Great Admiral Yi Sun Shin invented the Geobukseon or "a turtle ship" to save the country while serving as the Navy Commander.
Là một trong những thành phố du lịch có khu nghĩ mát biển nổi tiếng trên thế giới, và gần đây Yeosu được thế giới chọn là nơi để tổ chức Expo Thế Giới năm 2012 với chủ đề về "Sự sống ở đại dương". Đây là lần thứ 2 Korea được chọn là nơi tổ chức Expo, với lần đầu tiên ở Daejeon vào năm 1993.
(Official website for 2012 Expo)
Tụi tui đi đến Yeosu bằng buýt từ bến xe buýt ở Gwangju, mất khoảng 1 giờ rưỡi. Đến bến xe buýt ở Yeosu, tụi tui tiếp tục bắt bus nội thành để đi đến một ngôi chùa lớn trong vùng tên là "Hyang Il". Ngôi chùa này có thiết kế khá hay kết hợp với những tảng đá tự nhiên lớn chung quoanh và trong khuôn viên chùa. Ngoài ra vì chùa nằm gần biển nên còn tạo ra cảnh quang rất đặc biệt và đẹp mắt…
(Đường đến chùa Hyang Il ^^ Way to Hyang Il Temple)
(Đến rùi, mừng ghê, hehe - Arrived!!)
(Tìm đường đi - Find the way)
(Người mẫu Việt & Philipino, hehe, Vietnamese & Philipino models)
We took the bus from Gwangju's bus terminal to go to Yeosu dicrectly about 1 and half hour. Arriving at Yeosu's bus terminal, we took the city bus to go to a big temple named "Hyang Il". This temple has very interesting construction with many big stone around and inside as well as has very beautiful view caused location near the sea…
(Chó con ngoan ngoan nè ^-^ lovely Puppy)
(Đường lên chùa - Way up to the temple)
(Sương mù huyền ảo - On the way, lovely scence with mist)
(Đá lớn và lối nhỏ - Big Stone and small way)
(Can you make it bigger ^-^)
(Bò lên tới chùa rùi nè - Finnally we were up to the temple)
(Đèn lồng nhà chùa giăng giăng ^^ A lot of lanterns)
(Đèn lồng nhà chùa giăng giăng, có đứa điệu điệu hehe ^^ A lot of lanterns)
They threw their coins into the square with 12 animal designations)
Ở Yeosu, người ta còn biết đến một món Kim Chi nổi tiếng có tên là "Gat Kim Chi" và tụi tui cũng may mắn có cơ hội để thưởng thức món truyền thống này cùng với bữa ăn trưa chuẩn bị sẵn mang theo bên cạnh bờ biển…
(Chợ bán rất nhiều "Gat KimChi" ^^ Market with many "Gat KimChi" Shop ^^)
In Yeosu, it is also famous of a special KimChi called "Gat Kim Chi" and we had a chance to taste it in lunch with our prepaired foods beside the sea…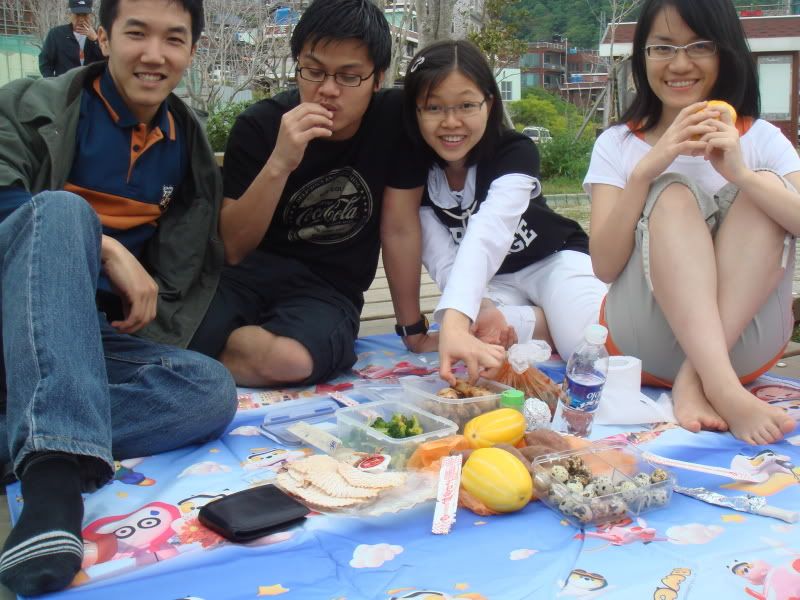 (Bữa tiệc trưa thật thịnh soạn được chuẩn bị bởi bé Thúy và Tâm ^^ Cái miếng ngồi này tui mua ở Homeplus đó nhe, đẹp hông, hehe
Very delicious lunch prepareb by Thuy and Tam ^^ This pab I bought in Homeplus, beautiful isn't it? ^^)