Vậy là đã qua 1 tuần kể từ lúc tổng thống tiền nhiệm Kim Dae-Jung (3/12/1925 – 18/08/2009) của Hàn Quốc qua đời ở tuổi 85 tại bệnh viện Severance ở Seoul do suy nhược nhiều cơ quan. Cái chết của ông làm biết bao người Hàn cũng như những người yêu hòa bình trên thế giới thương tiếc
…
Ông là một chính trị gia khá là đặc biệt với biết bao chìm nổi.
(Đám tang tổng thống tiền nhiệm Kim Dae-Jung -President Kim Dae Jung's funeral)
It was one week after the former President of Korea, Kim Dae-Jung (3 December 1925 – 18 August 2009), died at the age of 85 due to multiple organ dysfunction syndrome in Severance Hospital in Seoul. His death made many Korean people and peace-loving people in the world depressed… He is a quite special politician with his life always turning up and down.
(Đám tang của ông được diễn ra long trọng - His funeral was warmly and solemnly)
Ông tham gia chính trường từ năm 1954, trong giai đoạn cầm quyền của tổng thống Hàn đầu tiên, Syngman Rhee. Ông đã từng bị tra tấn, bắt cóc, ở tù, lưu đày và nhiều cuộc ám sát không thành….
Mr Kim first entered politics in 1954 during the administration of Korea's first president, Syngman Rhee. He have endured torture, kidnapping, prison, exile and several assassination attempts.
(Ông tham gia biểu tình năm 1969 - Mr. Kim speaking during a protest in 1969)
Ông suýt chết vào tháng 8 năm 1973 khi bị bắt cóc ở khách sạn ở Tokyo bởi KCIA (Korea Central Intelligence Agency) vì sự chỉ trích của ông đến hiến pháp "yushin" của tổng thống Park Chung-Hee.
(Ông nói chuyện với phóng viên sau khi bị bắt cóc - Mr. Kim spoke with reporters after his abduction)
He was almost killed in August 1973, when he was kidnapped from a hotel in Tokyo by KCIA (Korea Central Intelligence Agency) agents in response to his criticism of President Park Chung-Hee's yushin constitution.
Mặc dủ, ông sống sót trở về Seoul, nhưng ông bị cấm làm chính trị và bị giam (1976) vì tội tham gia vào công bố của bảng tuyên ngôn chống chính phủ. Ông bị kết án 5 năm tù, nhưng sau đó được chuyển thành giam lỏng tại nhà vào năm 1978.
Although Kim returned to Seoul alive, he was banned from politics and imprisoned in 1976 for having participated in the proclamation of an anti-government manifesto and sentenced for five years in prison, which was reduced to house arrest in 1978.
Năm 1979, sau khi Park Chung-hee bị ám sát, ông trở lại chính trường. Tuy nhiên, vào năm 1980, tòa án quân sự kết án tử hình cho ông vì tội xúi giục nổi loạn, nhưng nhờ vào sự can thiệp của chính phủ Mỹ, án của ông được giảm xuống còn 20 năm tù và sau đó bị lưu đày sang Mỹ. Tại đây ông, tham gia giảng dạy ở trường đại học Harvard cho đến năm 1985 ông quay trở lại quê hương để tiếp tục làm chính trị…
(Năm 1980, ông (thứ 2 từ phải), bị kết án tử hình do chống lại chính phủ quân chủ
In 1980, Mr. Kim, second from right, received a death sentence for protesting against the military government)
Kim was reinstated in 1979 after Park Chung-hee was assassinated. However, in 1980, a military court sentenced him to death on a charge of sedition but with the intervention of the United States government the sentence was commuted to 20 years in prison and later he was given exile to the U.S. Kim temporarily settled in Boston and taught at Harvard University as a visiting professor until 1985 he chose to return to his homeland and keep continue his political way…
(Ông trong nhà tù Chungju năm 1981
Mr. Kim in a cell in Chungju Prison, south of Seoul, in 1981)
Ông bị thất bại hai lần khi tranh cử tổng thống năm 1972 và năm 1992. Cuối cùng, ông thắng cử vào năm 1998 trong lúc nước Hàn đang lâm vào khủng hoảng kinh tế Châu Á… Khi nắm quyền ông đã làm hết sức mình để:
(Ông vận động tranh cử năm 1987 nhưng thất bại dưới Roh Tae-woo
Mr. Kim made a run for the presidency in 1987 but lost to Roh Tae-woo)
Mr Kim has two times fails to become President in 1972 and 1992. Finally, he won to become President in 1998 when the Asian financial crisis was happening… Being Korean President, he did his best to:
Vực dậy nền kinh tế Hàn: Lên ghế tổng thống trong lúc sự khủng hoảng kinh tế Châu Á đang làm kiệt quệ nền kinh tế Hàn Quốc trong những năm cuối của tiền tổng thống Kim Young-Sam. Ổng làm hết mình để làm nền kinh tế Hàn trở mình… Từ nền kinh tế bị giảm 5.8 % năm 1998, ông làm cho nó phát triển 10.2 % trong năm 1999…
(Ông và vợ là Lee Hee-ho trong buổi nhậm chức tổng thống năm 1998
Mr. Kim at his presidential inauguration in 1998 with his wife, Lee Hee-ho)
Recover Korean economic: taking office in the midst of the economic crisis that hit South Korea in the final year of Kim Young-sam's term. He vigorously pushed economic reform…After the economy shrank by 5.8 percent in 1998, it grew 10.2 percent in 1999…
Ngoài ra, một việc nổi bật khác là, ông áp dụng chính sách mới tên là "Chính sách Ánh Dương" mà thành quả là cuộc gặp thượng đỉnh liên triều Bắc Nam với tổng thống Kim Jong-il. Các ngoại giao kinh tế Bắc-Nam cũng phát triển, trong đó có: phát triển về đường sắt, khu du lịch Kumgangsan. Dù rằng các cuộc đàm phán giữa hai miền rất khó khăn nhưng 3 lần gặp mặt của các thân nhân của các gia đình bị chia cắt đã được thực hiện (mặc dù lần thứ tư đã bị Bắc Hàn hủy bỏ vào phút cuối).
Tồng thống hai miền Nam, Bắc gặp nhau
(Nụ cười... chính trị - Political... Smiles)
Establishing some new policy called "Sunshine Policy" to cool down the strained relationship between the North and the Sounth Korea which culminated in a historic summit meeting in 2000 in Pyongyang with North Korean leader Kim Jong-il. North-South cooperative business developments began, including a railroad and the Kumgangsan Tourist Region, where several thousand South Korean citizens still travel every year. Though negotiations for them were difficult, three reunions between divided families were held (though the North canceled a fourth at the last minute).
(Đường sắt nối liền Nam Bắc đi qua khu phi quân sự hai nước
North Korean train crossing from the demilitarized zone into South Korea, May 17, 2007)
"Chính sách Ánh Dương được lấy tên dựa vào truyện ngụ ngôn của Aesop "Gió phương Bắc và Mặt Trời". Trong câu chuyện ngụ ngôn này, Gió phương Bắc và Mặt Trời thách đố nhau làm sao có thể cởi được chiếc áo khoác mà người thanh niên kia đang mặc. Gió cố gắng thổi bay cái áo khoác của người, nhưng người giữ chặt lại không cho gió thổi bay đi; trong khi đó mặt trời với ánh nắng ấm áp soi xuống làm cho người này cởi bỏ áo khoác một cách tự nhiên để thưởng thức thời tiết đẹp…" Mục tiêu chính của chính sách là làm dịu tình trạng căng thẳng với Bắc Hàn bằng nỗ lực tăng cường quan hệ và hỗ trợ kinh tế.
(Thương tiếc cho nhà chính trị với biệt danh là Mr. Ánh Dương
Sorry for Mr Kim with a nick name as Mr. Sunshine)
"The term sunshine policy originates in "The North Wind and the Sun", one of Aesop's fables. In the fable, the sun and the wind compete to remove a man's coat. The wind blew strongly, but the man clutched his coat and kept it on. The sun shone warmly, and the man voluntarily took off his coat to enjoy the fine weather…" The main aim of the policy is to soften North Korea's attitudes towards the South by encouraging interaction and economic assistance.
Tổng thống Kim Dea Jung đã nhận được giải thưởng Nobel năm 2000 cho những cố gắng này.
Tổng thống Nam Hàn Quốc Kim Dae Jung nhận giải thưởng Nobel
South Korean President Kim Dae-Jung receives the Nobel Peace Prize from Chairman of the Norwegian Nobel Committee, Gunnar Berge, during the ceremony in Oslo December 10, 2000. Photograph by Reinhard Krause. © Reiters NewMedia Inc./Corbis.
He was awarded the Nobel Peace Prize in 2000 for these efforts.
(G
iải thưởng Nobel của tổng thống Nam Hàn Quốc Kim Dae Jung
South Korean President Kim Dae-Jung's Nobel prize)
Giờ đây ông đã mất
…
Là sinh viên đang học ở Hàn, tôi có thể phần nào cảm giác được nỗi đau trong lòng người Hàn vì một người đáng kính nể như ông đã ra đi vĩnh viễn
…
Qua đây, tôi cũng muốn chia sẽ phần nào cái cảm giác mất mát ấy
……
Now he has gone forever… As a student studying in Korea, I can somehow understand how much Korean people were pain because of this respected person… I would like to share this heart-breaking feeling with you……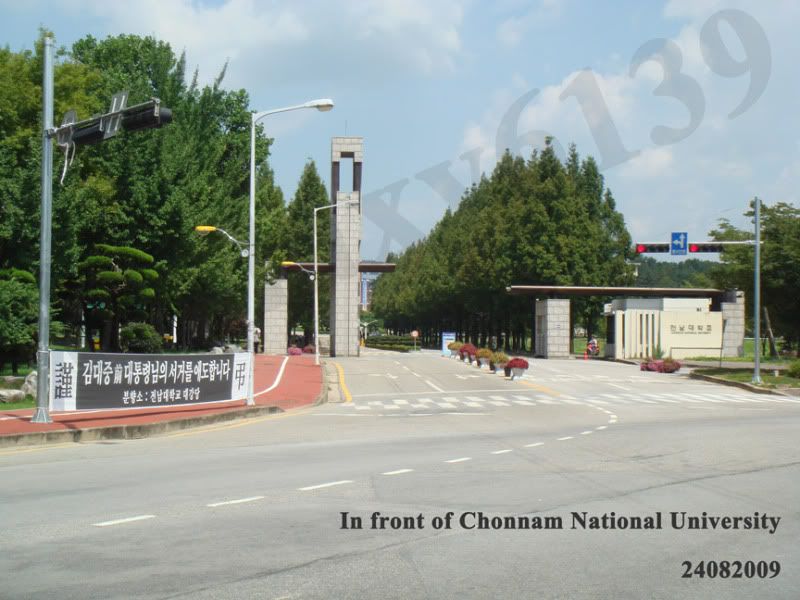 (Khắp nơi trên nước Hàn đều treo băng rôn với dòng chữ thương tiếc cho tổng thống tiền nhiệm Kim Dae Jung
All over Korea are hanging the banners with a regreting sentence for former President Kim Dae Jung)
http://www.telegraph.co.uk