Trong những ngày nay, tui quan tâm nhiều hơn trên những kênh chính trị về việc Trung Quốc đang xâm lấn Việt Nam trên biển Đông! Nhưng tối hôm qua, tui bất chợt bị thu hút bởi một đoạn chương trình truyền hình mà vợ tui đang coi. Đó là một chương trình truyền hình với tên gọi là "Korea's Got Talent" (Tạm dịch là: Cuộc thi tài năng ở Hàn Quốc), nơi mà mọi người đến tham gia với mục đích là phô diễn những tài năng mà mình có được… Choi Sung-Bong (최성봉) là một trong những người tham gia chương trình này, chương trình biểu diễn của Sung-Bong ̣̣ trở nên rất nổi bật không bởi vì đẹp trai, ăn mặc thời trang mà là sự cố gắng phi thường của Sung-Bong ̣̣trong cuộc sống quá ư là tội nghiệp cho anh ta. Anh ta làm cho rất nhiều người rơi nước mắt, khán giả trong phòng thu, ban giám khảo, và rất nhiều người khác nữa xem chương trình qua ti vi hoặc internet (có cả vợ tui nữa,…).
Indeed, in these days, I am paying much more attention on the politic news about China envading our Vietnam territorial sea! But yesterday night, I was attracted by a video clip my wife watching. That is a TV programe named "Korea's Got Talent" where people come here and showed how talent they are… Choi Sung-Bong (최성봉) is an attendance in this time, his performance became very dominant, not because he's handsome, fashional, but his effort in his tough life. He made a lot of people shed tears, the audiences, the judges, and many other people watching this show on internet or TV (including my wife,…).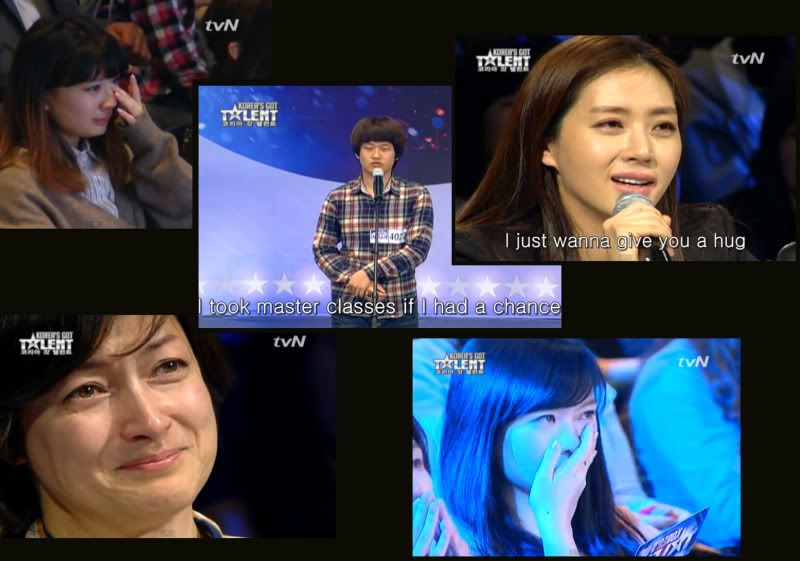 Sung-Bong đã trở thành trẻ mồ côi khi năm 3 tuổi và anh ta trốn chạy (khỏi trại trẻ mồ côi) khi anh lên 5 tuổi vì bị hành hạ, đánh đập. Anh bán kẹo sing-gum và các loại nước tăng lực trên đường phố để kiếm sống qua ngày
. "Tôi ngủ ở cầu thang hoặc các nhà vệ sinh công cộng trong 10 năm phiêu bạt". Sau khi kể câu chuyện cảm động, Sung-Bong bắt đầu hát bằng một giọng hát rất khỏe và thu hút người nghe, giọng hát mà chắc rằng chưa được rèn luyện qua bất kỳ trường lớp nào (như anh nói trong chương trình là, anh lấy được cảm hứng hát khi một hôm anh đi bán ở một hộp đêm, nghe một ca sĩ hát, từ đó anh tự nghe và luyện hát một mình).
Sung-Bong was left in an orphanage when he was 3 years old and ran away when he was 5 after being beaten. He sold gum and energy drinks on the streets to survive
. "I slept on the stairs or public toilet for 10 years like a dayfly". After his heart-breaking story about his tough life, Sung-Bong started to sing with very powerful and attractive voice which hasn't been trained in any academic placed, for sure (as he said in the show that he was fascinated when he sell gum in a night club and heard a singer sang. Since then, he just listened and practiced by himself).
(Nhấn chuột giữa màn hình để xem đoạn phim - Click mouse on the screen to play the clip)
Một điểm mà tui nhận ra trên khuôn mặt của Sung-Bong trong suốt chương trình là "Không hề có nụ cười và nước mắt!" Tui nghĩ là anh ta đã đánh mất chúng trong cuộc sống quá ư là ngặt nghèo trong tuổi thơ mình! Chúc cho anh có thể vượt qua mọi thử thách của cuộc sống này và sớm tìm thấy hạnh phúc… Qua chương trình ti vi này, tui hy vọng anh ta sẽ sớm tìm được hướng đi tốt hơn trong cược sống… Tui cầu chúc cho Sung-Bong … Như người Hàn thường hay nói khi gặp khó khăn là "FIGHTING" (Tạm dịch là: Cố gắng hết sức!")
What I recognized on Sung-Bong's face in the all show time was "there's no smile as well as tear!" I am afraid he lost them in his childhood toughful life! Wish you go through all and find out your happiness soon… Via this TV programe I hope he will find the better way for his life soon… very soon… I am praying for you, boy… As Korean people always say when in a difficult situation "FIGHTING"
Tui còn nhớ là khi tui còn nhỏ, gia đình tui không quá nghèo nhưng cũng chẳng giàu có tí nào. Tuy vậy, ba mẹ tui vẫn có gắng hết sức để anh em tui được đầy đủ nhất. Nhưng thỉnh thoảng tụi tui vẫn thường hay trách ba mẹ là sao tụi tui vẫn thiệt thòi so với bạn bè thế… Tui nhớ lời mẹ tui dạy tụi tui là "Hãy nhìn chung quanh con, con sẽ thấy vẫn còn hạnh phúc hơn nhiều người đó…" Câu nói này vẫn còn trong đầu tui cho tới bây giờ và nó giúp tui rất nhiều trong cuộc sống, tui thường hay nhắn nhủ với mình là "hãy tận dụng tất cả những gì mình có được để tự phát triển mình, mình vẫn còn may mắn hơn rất nhiều người mà…"

I remember when I were young, my family was not too poor but not rich at all. However, my paprents did their best to care me and my brother as good as possible. But sometimes, we still claimed our parents that we were disadvantage compared with my friends… I remembered what my mom told us "Have a look around you, you are still much luckier than others…" This saying is still in my mind until now, that help me a lot in my life, I always talk to myself "take whatever advantage you have and develop yourself, you are still luckier than others…"
Khi tụi tui còn là những đứa trẻ
When we were children
(Hai cái quần tây của hai anh em tui là được mẹ tui tự tay may à nha
Our two pants were made by my mom
)
Gần đây tui học được một câu từ một người bạn: "Tui khóc bởi vì tui không có giầy, cho tới khi tui thấy một người không có chân"
Recently I learn a quote from a friend: "I cried because i had no shoes,until i saw a man who had no feet"