Trận động đất và sóng thần xảy ra vào ngày 11 tháng 3 vừa qua đã mang đến một cú sốc đau đớn không chỉ cho dân tộc Nhật mà còn cho mọi người trên toàn thế giới… Qua đây, tôi cũng muốn bày tỏ sự chia buồn đến với các bạn đang phải chịu đựng thiên tai khủng khiếp này…
The earthquake and tsunami happened in the day 11th of March have brought a painful shock to not only the Japanese but also people all over the world… I would like to present my condolences to people suffering such terrible natural calamity…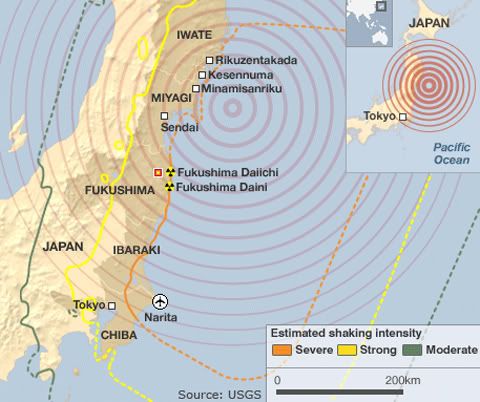 Mới đây, tui có đọc được một câu chuyện được viết bởi một người Việt Nam đang sống ở Nhật. Anh ta tên là Hà Minh Thành, lấy vợ người Nhật Bản, đã lấy bằng Tiến Sỹ. Anh đã viết một lá thư gửi cho người bạn kể về một câu chuyện cảm động mà anh ta đã chứng kiến trực tiếp… Tui muốn chia xẻ với bạn bè gần xa câu chuyện này… Tui chắc rằng bạn cũng sẽ cảm thấy một cảm xúc mà tui đã cảm giác khi đọc…
Recently I have read a short heart-breaking story from a Vietnamese person living in Japan. He is Ha Minh Thanh who got married with a Japanese got PhD degree. He wrote a letter to his friend about a story that made he be impressed a lot… I would like to share to my friends… I am sure you would feel how much your heart moving as I did…

Hiện tại tôi đang được tăng phái công tác hỗ trợ cho cảnh sát tỉnh Fukushima, chỗ tui đang làm cách nhà máy điện hạt nhân Fukushima 1 khoảng 25 km. Gọi là lên đây hỗ trợ giữ an ninh chứ mấy ngày nay chỉ đi nhặt xác người không thôi. Dân địa phương họ tự động thành lập các đội tự quản, tương trợ lẫn nhau. Giả sử có ai muốn ăn cắp ăn trộm cũng khó. Vấn đề an ninh không lo lắm. Người chết nhiều quá, tụi tôi chỉ còn lấy dấu tay, chụp hình và trùm mền lại rồi giao người đem đi thiêu. Ngày đầu còn mặc niệm, có cảnh sát tăng phái còn khóc nhưng bây giờ thì không còn thời gian để mà mặc niệm và khóc nữa. Hôm qua còn không có chỗ để mà thiêu họ nữa đó anh. Khủng khiếp. Ký giả của Hoàn Cầu Thời Báo Trung Quốc Vương Hy Văn hôm qua theo tôi một ngày để lấy tin khi đi ngang qua một ngôi nhà bị sập mà tiền giấy có lẽ từ ngôi nhà đó trôi ướt nằm tứ tán cả bãi đất chắc cũng vài chục triệu yen nhưng mà chẳng ai thèm nhặt đã phải thốt lên: "50 năm nữa, kinh tế Trung Quốc chắc chắn sẽ đứng đầu thế giới, nhưng vĩnh viễn Trung Quốc không thể được gọi là cường quốc vì 50 năm nữa người Trung Quốc cũng chưa thể có trình độ dân trí và ý thức đạo đức công dân cao như người Nhật hiện tại. Tôi hổ thẹn mình là con cháu của Khổng Tử nhưng không hiểu cái đạo Nhân Nghĩa làm người bằng họ."

Currently, I was asked for supporting police in Fukushima district. It's about 25 km from my working place to Fukushima nuclear power plant. Even though, "called for keeping security" but indeed I just helped to collect the death bodies. The local residents organized themselves into groups to help each others and prevent robbing and crime. Thus, the security is not a big concern in this situation. There are a lot of death people, we collected the finger prints, took pictures, covered a blanket on and gave to other people for cremation. In the initial days, we tried to pray, some new polices even cried but now we have no time to cry or pray. TERRIBLE. Yesterday, a Chinese journalist went along with me to collect the information. When we passed a collapsed house, there were many wet banknotes spreading on the ground, would be millions yen, but there's nobody try to pick them… The Chinese journalist surprisingly said "50 years later, the Chinese economy would be able to be the top of the world but never to be called as a powerful country because the Chinese people still would not have enough intellectual standard and morals. The Japanese people do aware of benevolence and righteousness really well…

Người Trung Quốc 50 năm nữa không bằng họ còn người Việt mình không biết bao nhiêu năm nữa mới có dân trí như vậy. Mấy ngày nay tôi chứng kiến nhiều câu chuyện cảm động về tình người trong hoạn nạn lắm nhưng có một chuyện khiến tôi cảm động nhất đã khiến một người lớn như tôi từng có bằng Tiến sĩ công học ở Đại học Đông Bắc (Tohoku Dai) cũng phải hổ thẹn về một bài học làm người.



That was a Chinese thought… let's think about our Vietnamese… how long our Vietnamese people could have such awareness. In these days, I witnessed many heart-breaking scenes and stories but there was one which made me, a PhD in Tohoku University, feel ashamed about being human.
Câu chuyện tối hôm kia tôi được phái tới một trường tiểu học phụ giúp hội tự trị ở đó để phân phát thực phẩm cho các người bị nạn. Trong cái hàng rồng rắn những người xếp hàng tôi chú ý đến một đứa nhỏ chừng 9 tuổi, trên người chỉ có chiếc ao thun và quần đùi. Trời rất lạnh mà nó lại xếp hàng cuối cùng, tôi sợ đến phiên của nó thì chắc chẳng còn thức ăn. Nên mới lại hỏi thăm. Nó kể nó đang học ở trường trong giờ thể dục thì động đất và sóng thần đến, cha của nó làm việc gần đó đã chạy đến trường, từ ban công lầu 3 của trường nó nhìn thấy chiếc xe và cha nó bị nước cuốn trôi, 100% khả năng chắc là chết rồi. Hỏi mẹ nó đâu, nó nói nhà nó nằm ngay bờ biển, mẹ và em của nó chắc cũng không chạy kịp. Thằng nhỏ quay người lau vội dòng nước mắt khi nghe tôi hỏi đến thân nhân. Nhìn thấy nó lạnh run lập cập tôi mới cởi cái áo khoác cảnh sát trùm lên người nó. Vô tình bao lương khô khẩu phần ăn tối của tôi bị rơi ra ngoài, tôi nhặt lên đưa cho nó và nói: "Đợi tới phiên của con chắc hết thức ăn, khẩu phần của chú đó, chú ăn rồi, con ăn đi cho đỡ đói". Thằng bé nhận túi lương khô của tôi, khom người cảm ơn. Tôi nghĩ bình thường tưởng nó sẽ ăn ngấu nghiến ngay lúc đó nhưng không phải, nó ôm bao lương khô đi thẳng lên chỗ những người đang phát thực phẩm và để bao lương khô vào thùng thực phẩm đang phân phát rồi lại quay lại xếp hàng.Tôi sửng sốt và ngạc nhiên vô cùng, mới hỏi nó tại sao con không ăn mà lại đem bỏ vào đó. Nỏ trả lời: "Bởi vì còn có nhiều người chắc đói hơn con. Bỏ vào đó để các cô chú phát chung cho công bằng chú ạ".
It happened at night of a day before yesterday, I was sent to a primary school to help an associate delivering food to the victims. I noticed a boy, about 9 year olds in shorts and a T-shirt, queuing a really long line. The weather was very cold and he stood in the end of the line, so I was afraid that the food would be out before his turn. So, I decided to ask him. He told that when the earthquake and tsunami happened, he was in a physical training time. His dad working in a near place came to pick him up. From the 3rd floor bancolny, he saw his dad's car was flowed out along with the tsunami, his survival is hopeless. Asking him about his mom, he said his house is near the beach, he was afraid that his mom and his younger sister/brother could not escape. He wiped off his tears when I was asking about his family. Seeing him strembling, so I took off my police coat and covered on him. Suddenly my dry food for dinner fail off, I picked it up and gave him, I told him "I think the food would be out before your turn, this is mine, I have had dinner, you can have my food to please your belly sound". He received my dry food bag, said thanks with his bending back. I had my simple thought that the boy would devour my food immediately as usual but NOT. He brought that bag to people sharing out the food, put it in the food barrel and come back the line to queue. I was very surprised and asked him why he did not eat but put it there?! He replied "Because perhaps many other people are hungrier than me. It would be fair if I put there and let other people share together"

Tôi nghe xong vội quay mặt đi chỗ khác để khóc để nó và mọi người đang xếp hàng không nhìn thấy. Thật cảm động. Không ngờ một đứa nhỏ 9 tuổi mới học lớp 3 đã có thể dạy một thằng có ăn có học từng có bằng tiến sĩ như tôi một bài học làm người trong lúc khốn khó nhất. Một bài học vô cùng cảm động về sự hy sinh.
I turned my back immediately because I did not want the boy and other people recognized that I was crying. Such a moving story. I did not expect a boy, 9 year olds, 3 grade could teach me, a person have learnt much knowledge, earned a PhD degree, a lesson how to be a human in such difficult situation, a lesson of sacrifice....